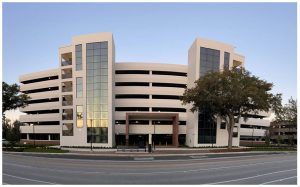 Hey check out our new parking structure!  Garage 14 is a go to structure for ALL commuters as it contains many features making getting around campus more of a breeze.
LOCATION
This facility is centrally located on campus making it accessible no matter which direction you are coming from.  1104 Gale Lemerand Drive Gainesville
From the North
From the South
From the East
From the West
NAVIGATION
Equipped with BLANK parking spaces, this structure hosts BLANK color parking along with BLANK number of EV charging stations.  How do you know if there is parking available?  It is simple, you can visit this site and look at this camera to know, IRL (in real life), what the parking capacity is!
<INSERT IRL CAMERA HERE>
How do you know where to park?  When entering the garage, look at the indicator lights on the above light fixtures to inform you where there is parking.  If the light is GREEN, parking is available, if it is RED, keep on traveling through the structure, soon you will find that parking spot!
<INSERT IMAGRY OF INDICATOR LIGHTS HERE>
TRANSPORTATION
How can you get to your final destination?  There are many ways!
By Bicycl

e – This structure hosts the largest sheltered bicycle parking all throughout campus!  The bicycle racks are designed to have multiple points of connection on your bike.  Want more security?  We've got it covered!  With card access controls, we can provide additional secured bicycle parking along with personal lockers and event outlets for the electric bicycles!  For more information please reference THIS!

By Bus

– Bus Routes 9, 12 & 122 all come to this structure.  We have solar powered bus shelters on both sides of the road to keep you dry during the rainy seasons and cooler during the hot summer months.

By Campus Connector/Campus Cab/Red Coach/SNAP

–
FEATURES
SECURITY BLUE LIGHTS –

Though 

this structure and 

throughout campus is a "

blue light

" 

security

 infrastructure that is designed to 

provide direct security access for anyone 

in 

need of p

ublic security assistance.  Included 

is a 

floorplan showing the location of these 

blue lights 

showing adequate coverage throughout the structure.  These phones 

are well lit, 

and also

 have 

security cameras 

on them to 

further provide the necessary 

security 

to those in need of assistance making UF, and this structure, a safe place to 

visit 24/7

Bicycle Fix-it station –
Tire inflation station –
Bird Friendly Glazing –

The vertical lines in the glass help to prevent birds from striking the building.  Additionally t

he glazing

provides

 daylight and views of the surrounding

campus 

environment giving

a sense of place and 

campus 

pride 

through egress of the building.  Since the building is 7 stories tall, visitors can obtain a beautiful 360 view of campus on the top level.  This is a great place for watching such things as sunrises, sunsets, and fireworks during the fourth of July!



Wifi Access – all throughout the structure/site.

This access is free and 

provide

s

 

high speed 

connectivity 

to

help folks in either navigating to their next destination and/or provide a quite space for students to study within their vehicles.

Florida friendly Landscaping –  

it has been essential that 

our landscaping took into consideration the health and wellbeing of existing trees 

and preserved as many as possible.  

Prior to demolition, 

the trees that were to remain had to follow the University's tree preservation protocols and 

the 18 of 

43 

tress that were removed had to pay a tree impact fee

s ranging from $500 to $19,500

 per tree.  

Though 

a number of

 trees were removed

, the

 mitigation plan 

required 38 trees be 

mitigated

 elsewhere on campus

Close to a major bicycle network –

within half a city block from the University's major bicycle network (UF Greenway shown below) that goes all throughout the state of Florida (as shown on 

Trail

-link website).  Additionally, 

UF  has

 a max speed of 20mph with bike lanes all throughout the main campus.  Roads with bike lanes are at least 5' and typically have two bike lanes one for each direction.  

The UF Greenway 

connects to a larger network,

 

Rails to Trails 

network

,

 that spans all throughout the state of Florida

.  Additionally, o

n campus bicycle lanes also run north and south on Gale Lemerand 

and all throughout campus, 

allowing 

bicyclists

 to 

travel safely

.

 



Through all of these features, we are proud that this project has been awarded the 2020 Champions for Change award!